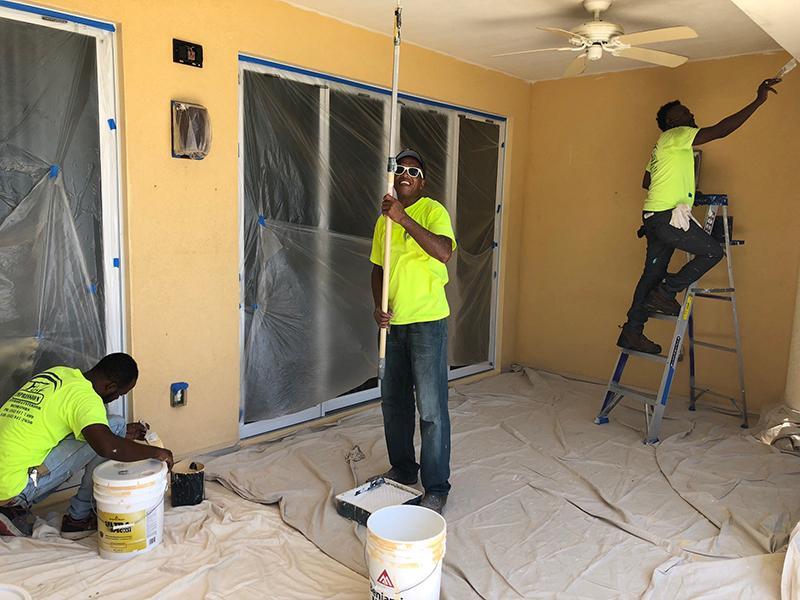 Well, sort of……
Each fall we close for the months of September and October, so we can carry out property maintenance and improvements.Last year we re-sealed the parking area, re-finished the hot tub and installed an ADA Compliant hydraulic pool lift.
This year, our main project is repainting the building's exterior.  As you might imagine, it is a big undertaking and we are so happy to be working with the professional team at First Impression. They have over 20 years' experience and were highly recommended to us. The team has already begun power washing and painting the villa patios and we are very impressed with their efficiency and workmanship.
Next, it is also time to replace our pool deck furniture, so we reached out to Jesse at Sticks and Stones, a local company that brings in unique furniture and accessories from Indonesia.  He made everything super easy and had lots of colour options and personalized suggestions. We are keeping the same style furniture, but the new pieces will be a lighter rattan and will look fresh.  The furniture is scheduled to arrive the first week in November – just in time for our re-opening!
Last, the closure is a great opportunity to do more thorough checks of the rental villas, do deep cleaning and check inventories.  Meanwhile, the owners will use this time to make any changes, improvements and upgrades to their villa.
So, while we are closed for the next few months we will be busy getting the property ready to welcome you with a fresh, new look, starting in November.